Snakebots
Snakebots are Used in Variety of Ways in Today's Everchanging World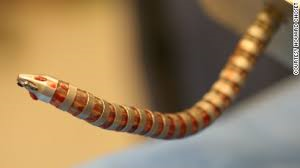 Snakebots? There have been talks about surgical robots helping doctors in saving lives. Well that's common and we've heard about that in news, seen them in movies, and read them in books. But have you heard about a snake robot saving lives? Yep, you've got it right. Snake robots! And they're doing operation. Now, that's weird, but that's also true. What's even more, National Geographic even predicted that snake robots could fight terrorism. Thanks to the ingenuity of Howie Choset, professor at the Robotics Institute of Carnegie Mellon University, we now have a variety of so-called snake robots to help us in our day to day life.
The Many Uses of Snakebots
Snake robots have become very useful in a variety of aspects. Once exclusive to surgery, snake robots are now highly useful among many different cases, including search & rescue operation, bridge & tank inspection, bomb disarming and life support for trauma & transport operations. Let's get into a deeper discussion in these many uses of snake robots:
Urban Search & Rescue Operations
It usually takes at least 48 hours for search & rescue teams to look for trapped survivors after a building collapses due to an earthquake or a bombing. Beyond that, the probability of finding someone alive is slimmed down to near zero. Because it's important to be fast and accurate, snake robots have been employed to aid in looking for survivors thanks to their high degrees of freedom and small cross-sectional area. It's easy for snake robots to pass through even the smallest holes and passageways and reach the location without disturbing the surrounding areas.
Surgical Operations
Snake robots are highly prized and utilized in performing surgery on hearts, prostate cancer, and other diseased organs. These robots are armed with minute cameras, scissors and forceps. They even have built in advanced sensors to get the work done faster and safer. Although surgical snake robots function under human control, it's expected that these robots will someday do the job on their own.
Life Support for Trauma & Transport
A snake robot functions as an all-in-one intensive care unit attached to a stretcher. It's equipped with oxygen, defibrillator, ventilator, and other monitoring devices. Integrated Medical Systems, Inc. has designed and manufactures this type of LSTAT and is currently use in both Iraq and Afghanistan.
Bomb Disarming
It's already known that snakebots are useful in fighting terror and one of its many practical applications is bomb detection and disarming. There have been many designs develop for this although scientists and experts are still conducting further experiments and studies to ensure that snake robots will become the best arm possible to fight terror.
Aug 27, 16 12:58 AM

Robot Nurse Cody is is nurse who...

Aug 26, 16 09:31 PM

The BrainGate Neural Interface System is helping people who suffer from paralysis to cope.

Aug 26, 16 09:28 PM

The Paro, a non-surgical animal robot, helps aid patients with dementia.