Medical Robotic Arm
Medical Robotic Arm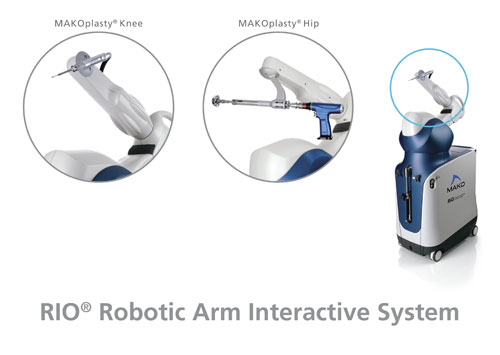 MAKO Surgical's Medical Robotic Arm

MAKO Surgical Corp. has released a medical robotic arm called the "Robotic Arm Interactive Orthopedic System (RIO)
It is another breakthrough in the field of surgery is the Robotic Arm Interactive Orthopedic System (RIO) by MAKO Surgical Corp.
Indeed, the medical world has just gotten better and better and now with the innovation brought about by RIO, surgical experience will not become as dreaded as they have been, but rather a more meaningful experience that will help restore the health and overall wellness of patients.
Watch the MAKOplasty® Animation | Partial Knee Replacement
About RIO
The Robotic Arm Interactive Orthopedic System (RIO) is a state of the art, robotic surgical facility with built in tangible robotic arms technology. It has been designed to act with human-like intelligence within surgical instruments. RIO is also replete with high definition patient-specific visualization system to plan in advance and treat patients in a unique manner with precision and accuracy.
Specifically, RIO's knee application will work forward as a virtual cutting guide thus erasing cutting blogs and jigs for less invasive, bone and tissue sparing partial knee surfacing. Furthermore, RIO's thigh, hip & arms application offers exact and precise facility to aid in cup placement and leg length restoration with the best, maximized combined anteversion.
Among the unique features of RIO include:
• Well planned and designed implant size, orientation and alignment with the help of CT-derived 3-D modeling.
• Pre-resection enabled to take shot of the patient-specific kinematic tracking through full flexion and extension.
• Real-time intra-operative adjustments for correct knee kinematics and soft-tissue balance.
• Less invasive and bone sparing, with minimal tissue trauma for faster recovery.
Watch the MAKOplasty® Knee - In the News on YouTube
According to Dr. Maurice R. Ferre, President, CEO, and Chairman of MAKO Surgical Corp., said that the RIO is a huge breakthrough in the medical and surgical field as it is hoped for to bring innumerable cure and miracle to the life of millions.
"The field of medical robotics is coming of age, and MAKO is committed to leading the way in orthopedic surgery," he said.
"The advancement of our technology with RIO™ and RESTORIS® MCK allows a greater number of patients with osteoarthritis to benefit from the precision and improved outcomes of MAKOplasty®."
The First FDA Approved of Its Kind
MAKO's RIO robotic arm system was the first of its kind to gain approval and clearance from the Food and Drug Administration for orthopedic surgery. It offers patient-specific, three-dimensional modeling for pre-surgical planning.
Surgeons will have to use the RIO to resurface the knee for placement of the implants, while offering real-time inter-operative visual, tactile and auditory feedback, thus giving a more precise, specific, safer and more effective optimal positioning of the implants.
Aug 27, 16 12:58 AM

Robot Nurse Cody is is nurse who...

Aug 26, 16 09:31 PM

The BrainGate Neural Interface System is helping people who suffer from paralysis to cope.

Aug 26, 16 09:28 PM

The Paro, a non-surgical animal robot, helps aid patients with dementia.