A Robotic Surgery System
Makes for a Safer Surgery
and a Better Recovery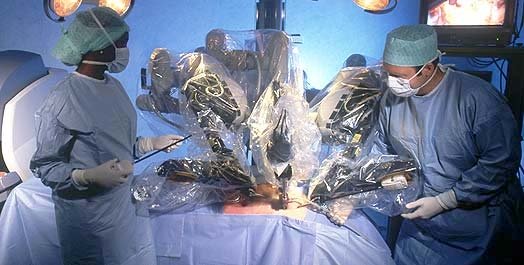 A Robotic Surgery System : Safer Surgery?

Robotic surgery systems are being used more and more for complex surgeries.
A uterine cancer patient at Rochester's Highland Hospital is recovering from a successful hysterectomy accomplished using a robotic system.
The YNN news channel reports that a patient named Nancy Parker was operated on by oncologist Dr. Brent Dubester, who performed the operation with state of the art robotics of the da Vinci surgical system.
This system is made by Intuitive Surgical, Inc. Its components include (1) a surgical console from wherein a surgeon can control the robot's actions during an operation, and (2) a patient side cart, which houses the robotic arms that come into direct contact with the patient.
The advantage of using the da Vinci surgical system is that it allows a surgeon to take a minimally invasive approach. A typical hysterectomy would require massive incisions leading to months of recovery time for the patient.

In Nancy Parker's case, the surgical procedure was performed with a high degree of efficiency resulting in a lower risk of blood loss and a shorter period of recuperation of just two weeks. This was made possible through the assistance of the da Vinci robot.
What happens in a robot-assisted operation? The surgeon places his hands on the master interface located inside the surgeon console. A magnified 3D image of the operation is displayed so that the surgeon can see exactly what the robotic instruments are doing at all times. On the patient's side, the robot deploys two or three instrument arms and one endoscope arm.
The flexible endoscope is fitted out with a light and camera capable of sending high definition 3D images to the console display. The surgeon is also equipped with EndoWrist instruments that offer a fuller range of motion than what is available to the human wrist. This enables the surgeon to operate around corners that would be impossible to navigate in regular laparoscopy.

The da Vinci Surgical System has been shown to reduce hospital stays by around 50%, leading to a corresponding reduction in hospital costs by about 33%. Patients who have undergone robot-assisted surgery have received smaller incisions, resulting in less pain and faster recovery, and thus allowing them to be released from the intensive care unit after a shorter period.
The device also offers the cosmetic advantage of not leaving a huge surgical scar on the patient. Intuitive Surgical further suggests that more uterine cancer sufferers may opt to undergo surgery once they learn that the procedure can be made less risky using robotic technology. By making it possible to do a safer hysterectomy, robotic surgery may save many more lives.
Read More about da Vinci at the Wikipedia
Aug 27, 16 12:58 AM

Robot Nurse Cody is is nurse who...

Aug 26, 16 09:31 PM

The BrainGate Neural Interface System is helping people who suffer from paralysis to cope.

Aug 26, 16 09:28 PM

The Paro, a non-surgical animal robot, helps aid patients with dementia.