Robot Nurse Cody
Robot Nurse Cody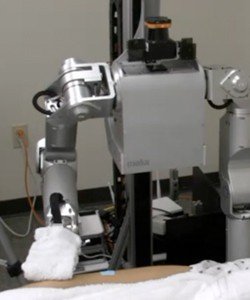 Robot Nurse Cody. Admit it. The thought of letting a robot bathe you is creepy, no matter how gentle the procedure promises to be. That's the initial reaction of most people anyway, at least until they actually try it. While the exact psychological effect of having an autonomous robot carry out bed baths on patients is still unknown.
A leading postdoctoral student on the team of Georgia Institute of Technology researchers, Dr. Chih-Hung King, who lay down in bed as a demonstration "patient," said the experience made him tense in the beginning, but that "his trust of the robot grew and the tension waned after a while. There was little or no discomfort involved, and he never felt afraid." He was referring to Robot Nurse Cody, a robot that actually gives sponge baths to patients.
A bed bath, where a nurse or family member uses a soapy sponge to clean off a patient's skin, can actually be an awkward social situation, making both the caregiver and patient feel uncomfortable. Researchers say having a robot carry out hygiene tasks these tasks patients offer huge advantages in this area. Patients are given greater privacy and independence, and nurses and caregivers who find the bed baths embarrassing are provided relief.

Introduced at last month's 2010 IEEE International Conference on Intelligent Robots and Systems (IROS) in Taipei, Taiwan, Cody, the robot nurse was developed by a team led by Dr. Charles Kemp, the principal investigator for the Healthcare Robotics Laboratory at the Georgia Institute of Technology.
Cody is reportedly pieced together from a "Segway omnidirectional mobile base, two anthropomorphic arms with seven degrees of freedom and wrists equipped with 6-axis force/torque sensors. The end of the robot's right arm is fitted with a specialized 'bath mitt' and the robot gathers laser range data and images from a laser range finder and camera mounted above the robot's torso.
The Robot Nurse Cody is partially human controlled, and is outfitted with a camera and laser attachment so it can tell precisely what body part it's being instructed to clean. Once the area of skin is identified via its camera and laser range finder, it simply goes to work, using the cloth outfitted to its robotic hand. Cody has compliant arms and a specialized "bath mitt" attached to one of them, which it applies to the patient's body using a gentle wiping motion.
In terms of safety, the researchers seem to have pretty much covered everything. The robot is specifically programmed to keep its skin-contact pressure low. The robotic arm's design makes it impossible to apply any dangerous pressure that may threaten the patient's skin, or exert any pressure capable of causing injury.
Its arm joints also have reduced stiffness to soften unnecessarily harsh impact. Most importantly, Cody comes with an override button that instantly halts the robot's movements, allowing for a one-touch kill switch in case something goes wrong.
Your first paragraph ...
Aug 27, 16 12:58 AM

Robot Nurse Cody is is nurse who...

Aug 26, 16 09:31 PM

The BrainGate Neural Interface System is helping people who suffer from paralysis to cope.

Aug 26, 16 09:28 PM

The Paro, a non-surgical animal robot, helps aid patients with dementia.